Box Office hours:
Monday- Saturday  10:00am- 8:00pm.    Sunday  10:00am – 7:00pm.
Tickets can be purchased directly through our Box Office by calling 410-730-8311.
If you prefer to buy tickets online, please visit Ticketmaster.com.
Please note: A service fee will be added by Ticketmaster to the ticket price for purchasing online. Ticketmaster is the only authorized online retailer of our tickets. Please be aware there are unauthorized third party ticket websites that will try to sell you tickets to Toby's Dinner Theatre.

Please only use Toby's Box Office 410-730-8311 or Ticketmaster.com to purchase your tickets.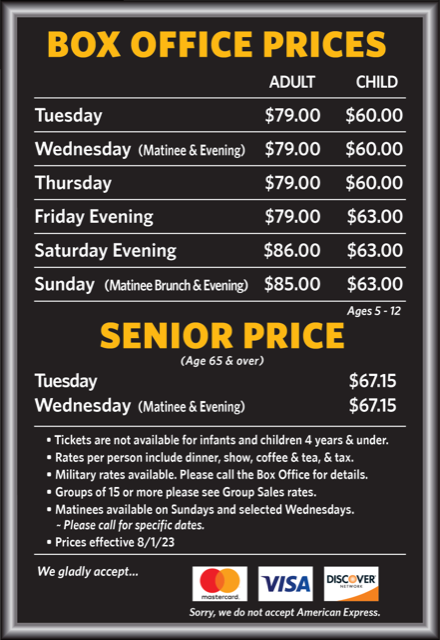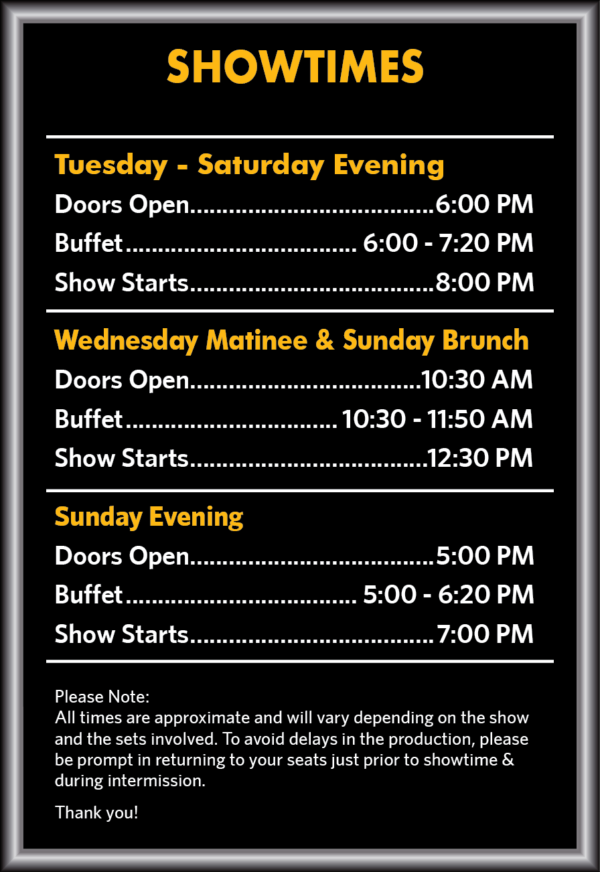 Reservation Policy
Reservations must be paid in full at time of reservation.
Children ages 5 and up are permitted to attend a show at Toby's Dinner Theater.  Tickets are not available for purchase for infants and children 4 years and younger.
At this time we are operating at full capacity. Parties of three or less may share a table with another party of three or less.
If you are a subscriber you will need to provide your subscription ticket numbers (located on your ticket booklet) to secure the reservation.
Any changes you wish to make to your reservation, must be made at least 48 hours prior to the performance date.  If reducing the number of people, a credit towards a future performance will be issued.  Credits that were issued must be used within a 12 month period.
Changes made reducing your reservation under 48 hours of your performance date cannot be made without penalty.
All sales are final and there are no refunds.
Groups of 15 or more will be handled by our Group Sales Office.  Visit our Group Sales page for additional information: https://tobysdinnertheatre.com/box-office/group-sales/

For additional questions, please contact our Box Office at 410- 730- 8311.

WE STRIVE TO MAKE YOUR EXPERIENCE AT TOBY'S BOTH PLEASANT AND MEMORABLE!

THANK YOU FOR YOUR PATRONAGE, ENJOY THE SHOW!
Effective as of January 5, 2023
* Due to the nature of theatrical bookings all shows, dates and times are subject to changes without notice.