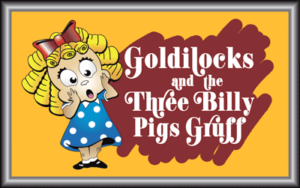 Goldilocks and the Three Billy Pigs Gruff
October 2023 – 27, 30
November 2023– 2, 3, 6, 7, 9, 10, 13, 14, 16, 17,27, 28, 30
December 2023– 1, 4, 5, 7, 8, 11, 12, 14, 15, 18, 19, 21, 22
May 2024– 13, 14, 16, 17, 20, 21, 23, 24, 28, 30, 31
Book by Carole Graham Lehan
Music & Lyrics by Christopher Youstra
An original Theatrical Arts Production that fuses the stories of Goldilocks and The Three Bears, The Three Little Pigs and The Three Billy Goats Gruff. The storyteller sets the scene, and weaves into the three tales as different characters. She challenges the villains: Goldilocks, Big Bad Wolf, and The Troll to make good choices. If they don't, they must take a chain and be bound to their bad choices. Some of them rise to the occasion; some don't, but they learn that they have the power to be kind and respectful, and that second chances are possible. This is one of our favorite shows to offer with fun costuming, some silly casting choices, amazing original music and smart writing. Teachers beg for us to bring this back!
This show fits in nicely with lessons in:
HOW THINGS CHANGE, CARING ABOUT MYSELF AND OTHERS, RHYTHM AND
RHYME, COMMUNITY, RELATIONSHIPS, and has ANTI-BULLYING themes.
-Recommended for grades Pre-K through 2nd