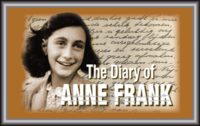 Dramatized by Frances Goodrich and Albert Hackett
Based on the book Anne Frank:
The Diary of a Young Girl Edited by Otto Frank
Back when this play had its time on Broadway, it received unanimous acclaim from all the top New York reviewers. It's a lovely tender drama, told with honesty and courage. The shining spirit of this young girl continues to filter down through the years and inspire hope. Frances Goodrich and Albert Hackett have fashioned a wonderfully sensitive and theatrical narrative out of the real-life legacy left to us by a spirited and straightforward Jewish girl. There is beauty and warm humor in this story, and our theatre in the round adds to the intimate feeling that you are there in the annex with them. Its powerful messages of hope and strength will give your students an experience they will never forget.
This show fits in nicely with lessons in:
ANTI-BULLYING, MAKING A DIFFERENCE, HEROES, ACTIONS SPEAK LOUDER
THAN WORDS, INVESTIGATING PERSONAL STRENGTH and DETERMINATION,
FACING INJUSTICES.
*Recommended for Upper Elementary, Middle & High School
April 2, 4, 5, 8, 9, 11, 12, 15, 16, 23, 25, 26, 29, 30
May 2,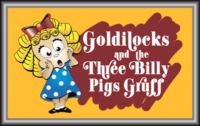 Goldilocks and the Three Billy Pigs Gruff
Book by Carole Graham Lehan
Music & Lyrics by Christopher Youstra
An original Theatrical Arts Production that fuses the stories of Goldilocks and The Three Bears, The Three Little Pigs and The Three Billy Goats Gru. The storyteller sets the scene, and weaves into the three tales as dierent characters. She challenges the villains: Goldilocks, Big Bad Wolf, and The Troll to make good choices. If they don't, they must take a chain and be bound to their bad choices. Some of them rise to the occasion; some don't, but they learn that they have the power to be kind and respectful, and that second chances are possible. This is one of our favorite shows to offer with fun costuming, some silly casting choices, amazing original music and smart writing. Teachers beg for us to bring this back!
This show fits in nicely with lessons in:
HOW THINGS CHANGE, CARING ABOUT MYSELF AND OTHERS, RHYTHM AND
RHYME, COMMUNITY, RELATIONSHIPS, and has ANTI-BULLYING themes.
*Recommended for grades Pre-K through 2nd
May 7, 9, 10, 13, 14, 16, 17