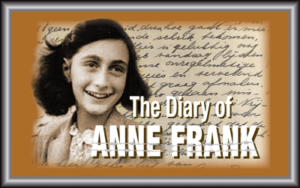 Dramatized by Frances Goodrich and Albert Hackett
Based on the book Anne Frank:
The Diary of a Young Girl Edited by Otto Frank
Back when this play had its time on Broadway, it received unanimous acclaim from all the top New York reviewers. It's a lovely tender drama, told with honesty and courage. The shining spirit of this young girl continues to filter down through the years and inspire hope. Frances Goodrich and Albert Hackett have fashioned a wonderfully sensitive and theatrical narrative out of the real-life legacy left to us by a spirited and straightforward Jewish girl. There is beauty and warm humor in this story, and our theatre in the round adds to the intimate feeling that you are there in the annex with them. Its powerful messages of hope and strength will give your students an experience they will never forget.
This show fits in nicely with lessons in:
ANTI-BULLYING, MAKING A DIFFERENCE, HEROES, ACTIONS SPEAK LOUDER
THAN WORDS, INVESTIGATING PERSONAL STRENGTH and DETERMINATION,
FACING INJUSTICES.
*Recommended for Upper Elementary, Middle & High School