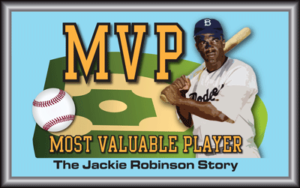 January – February
Book by Mary Hall Surface/Conceived by Gayle Cornelison
In this fast paced show, we meet Jackie Robinson,
the man who broke the color barrier in professional
baseball. Audiences will enjoy this portrayal of his
determination, despite seemingly insurmountable
racism. The story is driven by Branch Rickey, the
owner of the Dodgers who dared to sign Robinson,
as he guides Robinson while believing in him and his
talent. Many characters move in and out of the story
that both support Robinson, and attempt to keep
him down. Robinson's use of nonviolence and
unquestionable talent challenged the rules of
segregation, and therefore impacted American life.
This show fits in perfectly with lessons in:
BULLYING, MAKING A DIFFERENCE, HEROES,
ACTIONS SPEAK LOUDER THAN WORDS, INVESTIGATING
PERSONAL STRENGTH AND DETERMINATION,
FACING INJUSTICES.
Recommended for Upper Elementary, Middle & High School.
Performance Dates:
January – February 
Due to the nature of theatrical bookings all shows, dates and times are subject to change.